The "ACTION CAM" industry all over the world has been rapidly growing double every year. Mountain climbing, Skydiving,
Snowboarding, Surfing are quite the ones in the world and today, more people enjoy extreme sports than ever before.
Associated with these sports characteristics, ACTION CAM is an ideal and optimized for video shooting in these sports. In
the past, there were relatively bulky, expensive, with limited memory and compatibility to others. But recently it is rugged,
inexpensive, compact, portable device and surprisingly affordable so that this "ACTION CAM" has become common and
now it is time of popularity. As everyone knows, Camcorder/Camera are in its declining year but the marketplace of
"ACTION CAM" offers excellent potential for increasing sales and expects to post double digit sales growth in every years.
The study, released this week, estimates that shipments for wearable cameras, which include everything from action cameras
to body cameras, will increase from last year's 7.4 million to 24 million by 2021. Tractica estimates that the market will be
worth about $3.4 billion by the end of that period.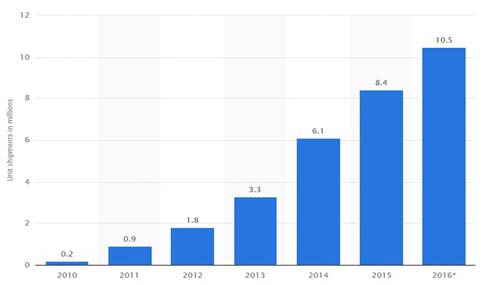 Action cameras sales worldwide are forecast to increase from 8.5 million units in 2015 to nearly 11 million in 2016. It is
likely to see growth in unit sales and revenue through at least 2019, according to Futuresource Consulting. The worldwide
action camera market grew 44% in 2014, reaching 7.6 million units, with a retail value of $3.2 billion, Futuresource said in a
report Friday. (7/08/2015)